Archive for July, 2011
Thursday, July 14th, 2011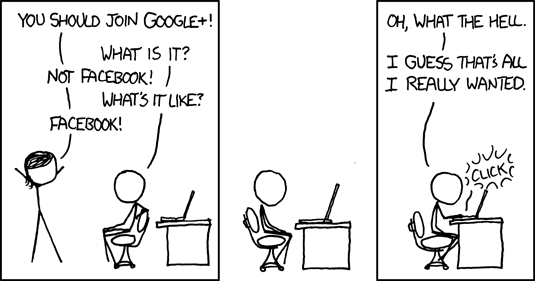 With all the talk about g00g+ (Google+), and the comparision with facebook, I came to think about a regular usecase on facebook, can I do that on g00g+ – today?

Create a page for an organisation
Create an event for that organisation
Invite people to the event
Update the people of the organisation
Update the attendees of the event
Create a campaign to promote the event and/or the organisation
All of the above, is possible to with facebook in approx. 15 minutes.
So take the Pepsi-challenge g00g+
Crossposted to | g00g+ | twitter | facebook | Illustration from the brilliant comic XKCD – Fanø you Mr. Randall Munroe for luring me to Google+, guess I made a splash though

ps.
I've included a link to a discussion about the challenges businesses are facing with g00g+ from Advice Digital (in Danish) advice digital: Google+ udfordrer virksomheders digitale position by René Clausen Nielsen and Birgitte Raben. They have answered my questions: "you can't do this – yet". I really doubt g00g can top facebook on this – but we should all embrace, and welcome, the competion, and g00g are good at "stealing" ideas.
Update: July 19th 2011
I've included a link to a discussion from "digitale tanker: Thoughts on Google+ and links to great reviews" – someday I might "get" "circles" – I've focused on a business oriented use-case here.
Update: July 25th 2011
I've included a link to an article by Henriette Weber "The social network on steroids – my first thoughts on Google +" – she's also talking about "circles" – which I still don't get. BTW, the only reason I noticed this article was because she shared it on…Google+

Thursday, July 7th, 2011
Svigtede "WikiWednesday" den 6-Juli-2011, og tog med Roskilde Pilgrimsforening på "Pilgrimsvandring" på Vesterbro.
Interessant nok var der stor overvægt af dobbeltXer til "Pilgrimsvandringen" – som i høj grad bestod af besøg i Københavnske Bykirker på Vesterbro – et yderst spændede mål.
Besøgene i bykirkerne var ledsaget af pilgrimsandagter, af svingende kvalitet, Maria Kirkes præst virker f.eks. til at være ganske "hardcore" puritaner, ihvertfald efter Københavnsk målestok, til hver andagt afsang vi to salmer, og menigheden kan godt blive bedre til at synge, selv om det var nogle af det svære salmer. Det lettede også min sjæl at høre Elias Kirkes præst tale om "fællesskab", efter den puritanske opsang i Maria Kirke.
Elias Kirke er utrolig spændende, og fyldt med symbolik, arkitekt var i øvrigt Nyrop, den samme som var arkitekt på Københavns Rådhus, og krypten, hvor vi indtog kaffe efter endt vandring, ligner faktisk en miniature af festsalen på Rådhuset.
Vi kom også gennem en ordentlig bunke fotos fra samtlige arrangementer i Roskilde Pilgrimsforening og et par personlige ture på den Spanske del af Caminoen til Santiago. Finn Buhl, formanden for Roskilde Pilgrimsforening, fortalte med stor passion om sine oplevelser på Caminoen.
Der var gratis sandwich, sodavand, kaffe og kage – jo Folkekirken kan noget med community-management

– alt i alt et fint arrangement og et fællesskab med stort potientiale.
ps. Skræmte en af deltagerne med mine piratflag, jeg måtte forsikre hende om at det ikke var en hentydning til noget ondt, men til at være "fri og have det sjovt", samt at jeg også havde Tibetanske bedeflag (vindheste) med.
pps. nogle kræfter i Folkekirken er skeptiske overfor Camino-trenden, og jeg kan godt følge dem, er selv "noget" skeptisk over for det fornuftige i at lege med på aflads-legen i Santiago – synes folk skal følge deres egen Camino
Eksterne henvisninger
http://www.roskildepilgrimsforening.dk/