Pink Dildo Records's Label Page – Music at Last.fm
Yes, I love Last.fm, and after registering as a solo artist on Last.fm (no I'll not remind you by linking to it – for YOUR own good), I'm now managing a Record Label.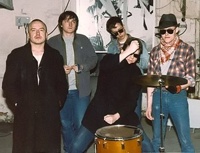 It's of course Pink Dildo Records I'm managing, and so far I've uploaded the non-copyrighted tracks by Beneath Contempt.
In 2000 I investigated the possibility of issuing a CD with Beneath Contempt, called Digital Comeback 2000, with copyrighted covers-tracks, but that was too cumbersome and expensive, so I gave up on it, and the cover-tracks aren't available on Last.fm either – it would only result it us getting promptly banned, but all the tracks has been made available in FULL and as FREE downloads. N-Joy. Be advised it's guaranteed to be in GLORIOUS LO-FI.
But it's quite ridiculous that I can't make the number one hit by Beneath Contempt, a spoof on Pippi Longstockings called Hippie Longhair, available due to the copyright rules. If you know Danish, and even if you don't, just follow the link, and make your own version instead – the ultimate in DIY.
"These" limitations will eventual disappear, but only because we now are beginning to make music available for free.
Great Label Manager
As expected the process of uploading material to Last.fm is smooth. The material has to be submitted at 128K MP3 files, and you have to bundle your uploads into releases (e.g. albums). I found it easiest to package your release into a single ZIP file, and then upload it as one release.
After you've uploaded the file, Last.fm validates it and I did of couse have some hidden resource forks, that I could iron out, and you're given the opportunity to change to artist and title of the tracks. The info is read directly from the MP3 file, so remember to have it tagged before uploading it, I had no problems with the process, and considering how much time I just spend uploading pictures to a Share Point Server, this was really easy and productive.
Last.fm also offers to upload the material for you, you just have to send them the CD and they'll take care of it for you – great customer service.
Last.fm also offers integrated promotion tools, buing of including banner ads, co-marketing deals etc. It's really quite impressive, and it looks very easy to use.
The traditional music publishers should take note, "Houston: YOU have a problem!"
ps. Trouble in "paradise"
And then I ran into one of the "limitations" of Last.fm's Label manager.

I tried to upload the works of another of our "artists", Oh No, and that name was already taken by, no other, than the brother of Madlib, so now my label and the content is put in an automatic moderation queue, quite understandable, let's see how that works, and I'm not allowed to manage my label for the next three days, while the account is being scrutinised by the Last.fm staff.
I expect no problems, despite the controversial name of the label and the LO-FI, in mono, no less.
What I expect is than we'll be told to find another name for the "artist" when publishing on Last.fm, or keep "Oh No" away from Last.fm, which would be a "shame" ;-).
I think the policy of Last.fm makes good sense, but the ambiguty of artist names, especially short and cathcy ones like "Oh No", is a major problem, and Last.fm could be better at handling that.
If you can't wait to go back to mono with "Oh No", you can listen to the tracks we have available on pinkdild.org.