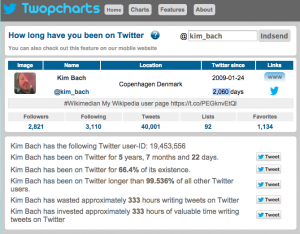 As far as I can see, this was my 40K, and I average just a little more than 19 Tweets/day.
@Gjetting sometimes Goa Trance, but that is not always a good sign, right now I'm listening to Jim Reeves(!)… 🙂

— Kim Bach (@kim_bach) September 14, 2014
The Full Monty
Tweets from https://twitter.com/kim_bach/lists/aka

ps. Just for the record, I have wasted FAR more than 333 hours on Twitter on my 10 accounts.