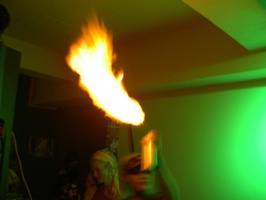 Just listening to "Release", the first album by "Natasja" (+ 24-June-2007 R.I.P) – it's actually MUCH stonger and MUCH more experimental than I remembered – will go down as a classic! – especially the tracks "Bonfire" and "Restless" are OUTSTANDING.
The picture was taken at the R*A*W 2004 event at Islands Brygge – the last time I saw Natasja alive…
Lille T det er dit navn og himlen er din havn
Lille T: Thank you for the wonderful memories, especially when you were performing with "No Name Requested", probably the best Danish Hip-Hop EVER, and at R*A*W in August of 2004, just before your big break – it was so so great, and really the day I discovered NEW dancehall, and the celebration of life that dancehall represents!
Honour the memory of "Little T" and donate to the Red Cross' fight against AIDS. AIDS is destroying the hope of Africa. Below is a quote from Natasja's MySpace page.
Friends and colleagues of Natasja have been wishing to start collections for Natasja's mom and others already did collect on the day that Natasja died, like it happened at Rub'a'Dub club last Sunday. Anyone wishing to relief Natasja's moms situation can do so by donating money on the bank account below which is set up as a trust fund with the sole purpose of paying for transportation of Natasja's remains and to pay for her funeral. Any excess funds from the collection will be donated to The Red Cross effort to fight AIDS in Africa. The last cause has always been one of Natasja's greatest wishes to support.

Bank info:
Account number (incl. reg. no.): 3121 3121656760
Swift code: dabadkkk
IBAN: dk4030003121656760
And my prayers go out to the women and children of Africa!
"The real party starts when Africa is liberated".
"The Creator" must be "sleeping": PLEASE, PLEASE PLEASE, I'm on my knees here: send more angels, like my friend Louise that is currently working at a hospital in Africa. Tasha can you "pull some strings"?
ÆRET VÆRE NATASJAS MINDE! LIGHT A TORCH FOR NATASJA SO THAT SHE CAN FIND HER WAY HOME!!!