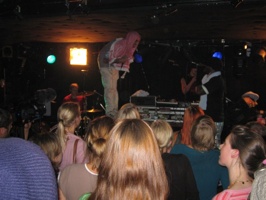 Images of the Middle East: Home
Since attending the Natacha Atlas concert last week, I sort of got addicted to the Images of the Middle East festival, and they keep sending mails about interesting events, so I "went all in", and bought tickets to 5 further events, and the music program is extremely wide and interesting.
On the 30th of August 2006, my mothers 70th birthday BTW CONGRATULATIONS, two different hip-hop acts, with more than an inspiration from the Middle East, visited Stengade 30 in Copenhagen.
First up was DAM, a hip hop act of Palestinian desend, well the DJ was Jewish DJew as the joked.
I guess I shouldn't say this, it's a serious stereotype, but I came to think of labelling DAM as an Arab version of the Beastie Boys, because they have 3 MC/1 DJ lineup.
Unfortunately the set was a bit too political, and they didn't really manage to fire up under the audience, that clearly weren't used to hip-hop, unfortunately very few from the Copenhagen hip-hop community attended, I guess "Images" hasn't been noticed by them, which is a shame.
I wasn't too impressed by the DJ. I mean he was sort of OK, but since the crowd seemed to be such hip-hop ignorants, I guess they didn't notice the version of the "Busta Rhymes" track "Touch It" or the reference to Jay-Z's "Big pimpin'". But generally the DJ was a bit bland, he needs to work on his scratching skills, since the wheels of steel is an instrument.
DAM delivered a short set with no extras, but all in all a little disappointing, mostly due to the slow crowd, because the rappers were great, and really, really fast, makes you want to learn Arabic. But they did manage to get the crowd shouting "Salaam Aleikum" several times! And yes Arabs have culture, but we all knew that, no need to preach to this crowd of non-prejudiced people.
After quite a while Clotaire K was ready to go on the stage.
And what a start, the DJ played a great trancelike intro, that build up to the entrance of a REAL band.
The line up was Drums, Bass, DJ, MC/Dancer and MC. Immediately it was clear that we were in for a special treat.
Clotaire K is the name of the MC, and he's of Lebanese decent, based in Montpellier France.
The music is a great mix of hip-hop, rock, funk and some traditional Arabic music. It turned out that K is is an accomplished musician playing the lute, after joking that "it was broken" – in reference to the strange appearance of the lute with "the bend" – and that he just borrowed it. As a guy standing next to me shouted "DET ER FOR SVEDIGT DET DER".
It's difficult to pick highlights from the concert, but the duel between the lute and the DJ was great, or the time when the MCs took their duel to the floor, "ouvre les yeux! Follow the choreography!".
I must admit that French hip-hop sometimes looks and sounds like "le futur de hip-hop", as I said to the DJ when I bought their CD, "il faut des musiciens vrai" they're doing hip-hop a great favour.
The joint was jumping. Stengade 30 is a great venue. Thank you for really keeping it real, "merci lec mecs, c'etait une spectacle extraordinairé".
You can still catch Clotaire K and DAM at the "Images" festival. If you really like music, and not only hip-hop, and Clotaire K is as good an introduction to the genre, as you'll find on the planet. Go hear them and get entertained.
Odense Studenterhuset* 31. aug. Kl. 21:00
Stockholm Re:Orient 1. sep. Kl. 22:00
Roskilde Gimle* 2. sep. Kl. 21:00
Helsingør Toldkammeret 3. sep. Kl. 21:00