Som det turde være de fleste bekendt, så brød forhandlingerne mellem YouTube og Koda, der repræsenterer de fleste danske musikere omkring betaling for musik, sammen.
Det blev i danske medier præsenteret som at YouTube havde blokeret dansk indhold, men det stikker en del dybere, her er hvad Koda skriver på deres hjemmeside:
Hvilken musik bliver blokeret på YouTube?
YouTube har meddelt, at de vil blokere den musik, som Koda repræsenterer, fra den danske del af alle YouTubes tjenester. Koda repræsenterer stort set al dansk musik på YouTube, så det er primært den musik, som YouTube nu blokerer fra den danske del af YouTube. Internationale sange risikerer dog også at blive blokeret fra den danske del af YouTube, hvis der er et Koda-medlem, som har en andel på en international sang. Endelig vil der være sange, hvor det er et udenlandsk forvaltningsselskab, der har bedt Koda om at repræsentere deres rettigheder i Danmark, som vil kunne blive blokeret fra den danske del af YouTube – det gælder fx musik fra Norge, Finland og Island. Vi kan dog ikke garantere, at der ikke bliver blokeret mere end dette. Det er YouTube, der på teknisk niveau styrer hvilket indhold, der blokeres, og hvornår.

Få svar på spørgsmål til Googles blokering af musik på YouTube
Bemærk det jeg har fremhævet, et uvist antal sange af internationale kunstnere kan også være blokeret!
YouTube svarede igen med et debatindlæg fra Dan Chalmers, direktør for Youtube Music i Europa, i Politiken, og Soundvenue har også skrevet om det: soundvenue.com: Youtube udtaler sig om blokering af dansk musik: »Vores største ønske er at nå frem til en aftale«
Som jeg nu vil dokumentere er der også tale er om at YouTube, men også rettighedshaverne, udøver decideret hærværk på kunstværker.
Hovedproblemet er at der tales om sange og ikke samlede værker, og at et samlet værk ikke nødvendigvis fremstår sådan rettighedsmæssigt, selv om det er blevet udgivet som et samlet værk, også digitalt.
Jeg er klar over at dette skyldes komplicerede problemer med at få sikret – clearet som det hedder – rettighederne, f.eks. når det handler om brug af sampling, men lad og kigge på detaljerne.
Jeg har længe abonneret på Google Play Music, og har været ret tilfreds med det, f.eks. synes jeg tjenesten virker rigtig godt til at finde ny musik til mig, herunder anbefalinger baseret på live koncerter i nærheden, med i pakken fik jeg YouTube Music, en tjeneste der ikke har musik som sit eneste område, men blander det hele sammen til en stor pærevælling, jeg er ikke rigtig interesseret i musikvideoer når jeg vil lytte til hele albums.
Google har nu, i deres visdom, besluttet at migrere Google Music Play, der havde samme musikbibliotek som de andre tjenester som Spotify, youSee Music og Apple Music, til YouTube Music.
Man kan stadig bede om afspille hele albums fra bestemte kunstnere, eller det troede jeg da, indtil jeg ville lytte til Beastie Boys' album Paul's Boutique fra 1989 på YouTube Music.
Det så sådan ud: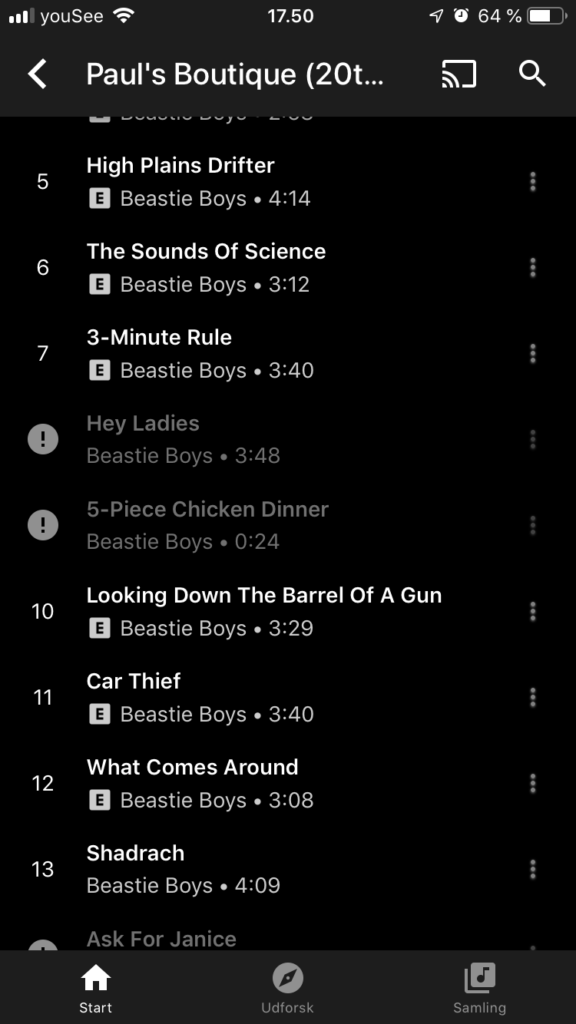 Bemærk (!) tegnene og at titlerne "Hey Ladies" og "5-Piece Chicken Dinner" ikke kan vælges.
Det var da underligt, så jeg tjekkede lige Google Music Play: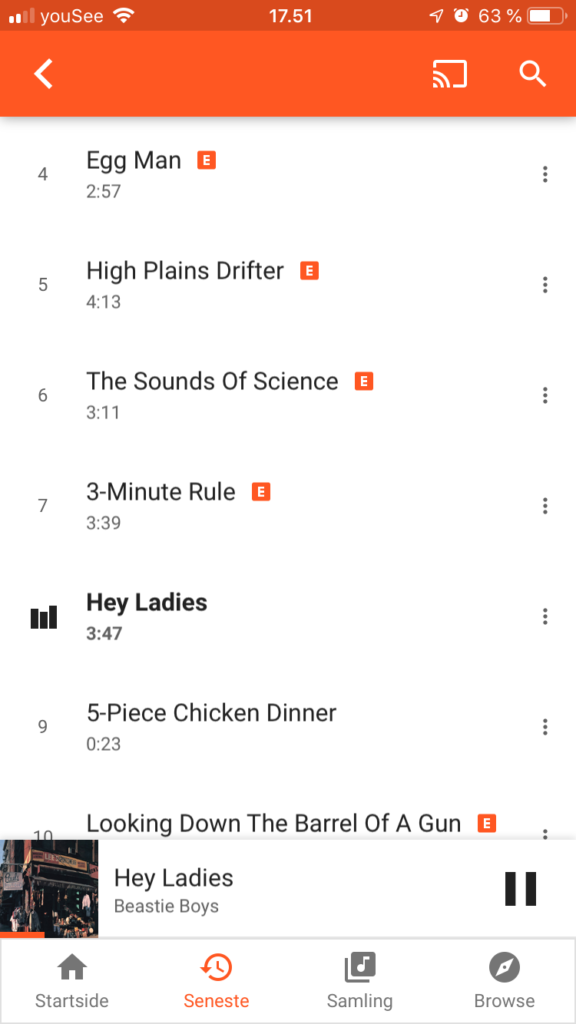 Som forventet ingen problemer.
Her er det at det går op for mig at Google har gang i et sololøb her, ved at migrere Google Play Music til YouTube Music, der følger samme regler som YouTube, også selv om man betaler de samme 99 kr./md for YouTube Music som for Google Play Music.
Og det bliver jo ikke bedre af at man da sagtens kan finde Hey Ladies på YouTube, hvis man søger lidt dybere, men det kan algoritmerne jo nok også finde ud af med tiden: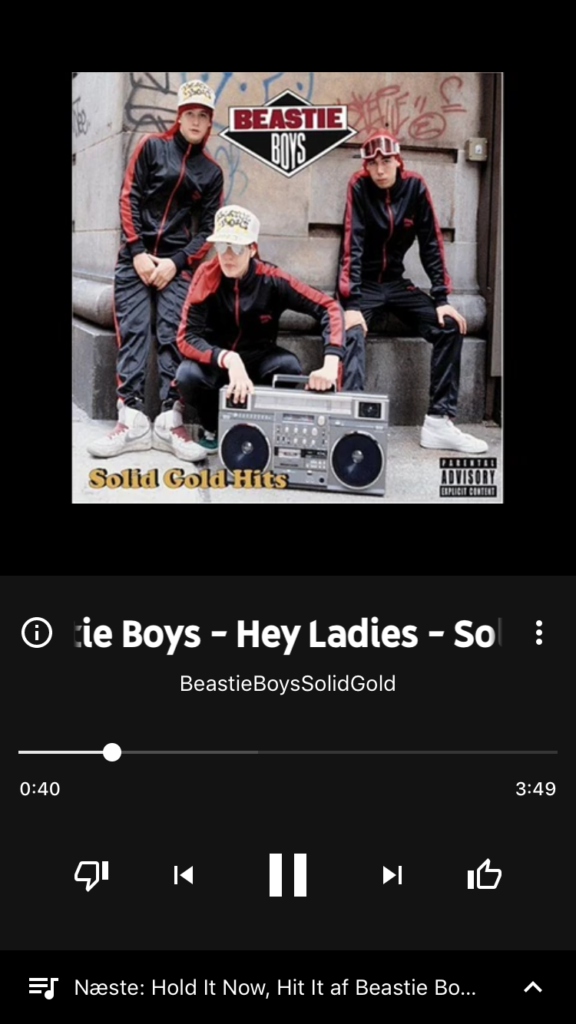 YouTube kan altså fortsætte med at præsentere ulovligt indhold, når brugerne selv har lagt det op, her snyder det nok også algoritmerne, at denne upload kommer fra et opsamlingsalbum.
Musikvideoen lader de dog til at have luget ud, det skyldes nok også at vevo længe har været med til at fjerne ukrudtet.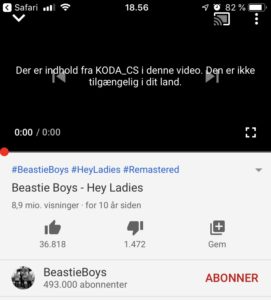 Men man skal jo ikke længere end til Vimeo for at finde en frisk piratkopi: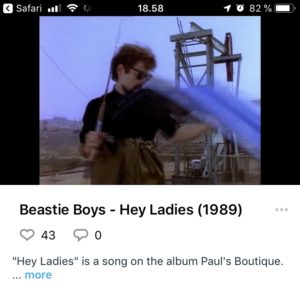 Hvad betyder dette? Jo, det betyder at man som musikelsker, der betragter musikalbums som samlede værk, ikke kan stole på streaming-tjenesterne, der har en "sange" betragtning, som om alting blev udgivet som singler, men også at musikvideoer, der både er kunstværker men måske mest reklamer, også forsvinder.
Hvad er problemet egentlig i dette tilfælde, hvorfor er det kun nogle få sange på albummet der er blokeret?
Det skyldes naturligvis at "Hey Ladies" er et sampling-kludetæppe af dimensioner, ifølge WhoSampledWho er der tale om at 17 forskellige sange er samplet og Slate har en god artikel om det.
Hvilke, en eller sandsynligvis flere, af de 17 sange der repræsenteres af Koda eller deres internationale samarbejdspartnere, vil jeg ikke gisne om, men f.eks. er James Brown, The Sweet og Deep Purple er blandt de samplede kunstnere.
Det er da meget muligt at det for flertallet at forbrugerne ikke betyder noget, men mange musikere og musikelskere vil nok være af en anden opfattelse, og personligt ville jeg foretrække at hele albummet blev fjernet, da det må være ulovligt som et samlet værk.
Nå, det er da godt at jeg har rippet min musiksamling: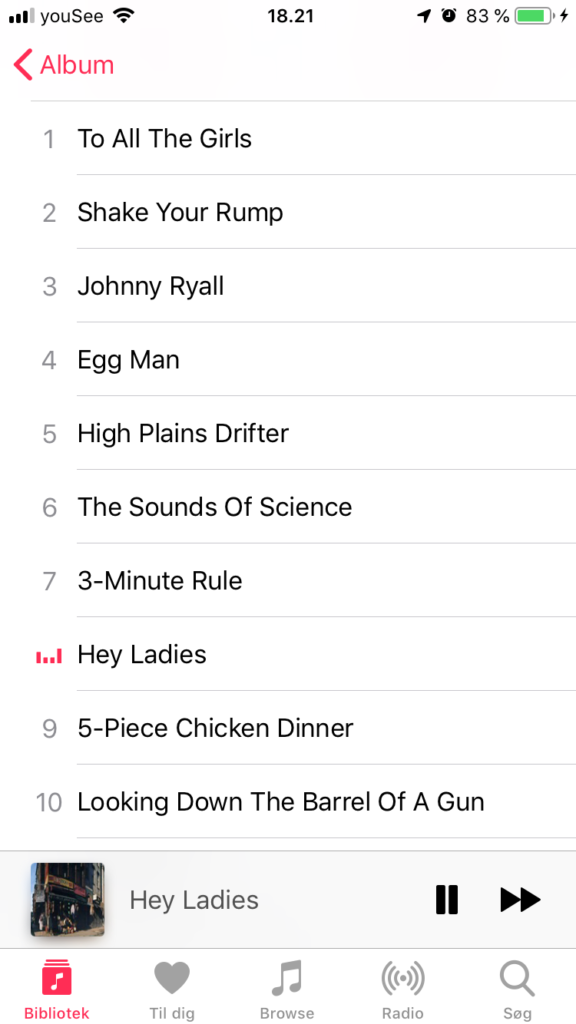 Hvis du vil høre Paul's Boutique, hvilket jeg kun kan anbefale, så prøv på dit bibliotek, eller brug disse oplysninger når du bestiller din fysiske kopi eller download:
| | |
| --- | --- |
| Titel: | Paul's boutique |
| Af: | Beastie Boys |
| Bidrag: | Beastie Boys; Adam Yauch; Michael Diamond; Adam Horovitz. Beastie Boys (Mikey D, MCA, Ad-Rock) |
| Udgiver: | Capitol |
| Id: | Capitol, CDP 7917432 |
| Opstilling i folkebiblioteker: | Rock |
| DK5: | 78.794: 5 |
Konklusion
Anbefalingen herfra er at man sikrer sig en lokal kopi af sin musiksamling, det sker nok bedst ved at købe fysiske medier i en pladebutik, direkte fra kunstneren eller pladeselskabet, og så rippe dem, alternativt at låne CDen på biblioteket, det er muligvis også mere fair trade, selv om det er umuligt at regne sig frem til bundlinjen.
Hvordan ender dette? Flertallet af forbrugerne må antages at være ret ligeglade, så Koda har næppe andre muligheder end at lave en ny aftale med YouTube, men jeg forestiller mig at de danske musikere bliver YouTubere i stedet, og det er alt andet end fair trade.
Personligt håber jeg da at Koda holder fast, uanset hvor meget jeg mener de har sovet i timen, jeg håber også at de vil være med til at give forbrugerne et reelt valg for at kunne handle fair trade.
Jeg kunne også godt tænke mig at høre Koda og musikernes holdning til, at der bliver "skudt huller" i deres værker på den måde på YouTube Music, og at de egentlig også selv er med til det.
Dette er jo en af de store problemer digitaliseringen, ingen opdager når noget forsvinder, eller ændres, drypvis.
YouTube, og i en vis grad også rettighedshaverne, har tilsyneladende ingen forstand på, eller respekt for, musik!
One more thing
Alt dette startede måske med at Apple solgte musikbranchen på at man kunne sælge musik digitalt på en måde der mindede om fysiske køb, gennem iTunes, med priser der var sammenlignelige med prisen på en fysisk CD, tilsat muligheden for at sælge enkelt-sange.
Vejen var brolagt for streaming og pay-per-play modellen.
Eksterne henvisninger