dr.dk › DR1 › Michelles mission › Programmerne › Michelles mission (4)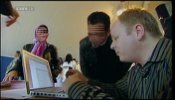 A link to the TV show that featured yours truly is up now, stay tuned for the streamed media. You have to watch for something like 15 minuttes to catch a glimpse of me, and later, me and my trusty companion, my beloved Apple PowerBook G4 12″ aka. K.Job.
Yes, KB-Hallen features a free and fast Wi-Fi connection 8-). "You are using a mobile phone to get a connection right?" "No, it's Wi-Fi!" "It's what?" "It's wireless Internet! It's build right in. And guess what it's free".
The future is now, Wi-Fi is becoming pervasive, much like running water. When I went to Vingsted Center in Vejle for the "Yearly Gathering" (årsmøde) of Dansk Flygtningehjælp (The Danish Refugee Council) last week, they had Wi-Fi as well, and once again I was the only user. But 3G is dead like ahem 3G, long live Wi-Fi.
You can also catch the re-runs of show 4.
Michelles mission
DR1, Thursday the 20-Apr-2006 @ 14:20
DR1, Monday the 24-Apr-2006 @ 09:05