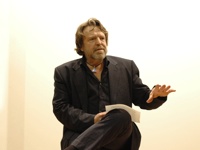 Listening to an old issue of one of the best technology podcasts Go Digital from the BBC, I was reminded of John Perry Barlow ((born October 3, 1947) is an American poet, essayist, retired Wyoming cattle rancher, political activist and former lyricist for the Grateful Dead (source Wikipeida)).
In 1996 he formulated a Decaration of the Independence of Cyberspace, and after listening to the BBC, I'm focusing on this quote!
We are creating a world that all may enter without privilege or prejudice accorded by race, economic power, military force, or station of birth.

We are creating a world where anyone, anywhere may express his or her beliefs, no matter how singular, without fear of being coerced into silence or conformity.

Your legal concepts of property, expression, identity, movement, and context do not apply to us. They are all based on matter, and there is no matter here.
Amen!