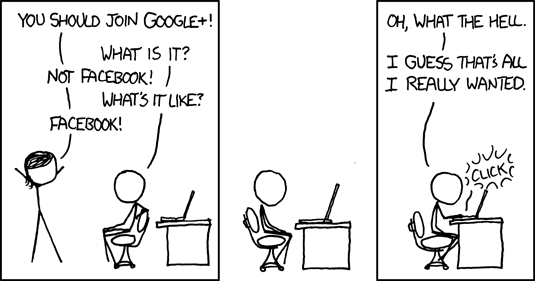 With all the talk about g00g+ (Google+), and the comparision with facebook, I came to think about a regular usecase on facebook, can I do that on g00g+ – today?

Create a page for an organisation
Create an event for that organisation
Invite people to the event
Update the people of the organisation
Update the attendees of the event
Create a campaign to promote the event and/or the organisation
All of the above, is possible to with facebook in approx. 15 minutes.
So take the Pepsi-challenge g00g+
Crossposted to | g00g+ | twitter | facebook | Illustration from the brilliant comic XKCD – Fanø you Mr. Randall Munroe for luring me to Google+, guess I made a splash though 😉
ps.
I've included a link to a discussion about the challenges businesses are facing with g00g+ from Advice Digital (in Danish) advice digital: Google+ udfordrer virksomheders digitale position by René Clausen Nielsen and Birgitte Raben. They have answered my questions: "you can't do this – yet". I really doubt g00g can top facebook on this – but we should all embrace, and welcome, the competion, and g00g are good at "stealing" ideas.
Update: July 19th 2011
I've included a link to a discussion from "digitale tanker: Thoughts on Google+ and links to great reviews" – someday I might "get" "circles" – I've focused on a business oriented use-case here.
Update: July 25th 2011
I've included a link to an article by Henriette Weber "The social network on steroids – my first thoughts on Google +" – she's also talking about "circles" – which I still don't get. BTW, the only reason I noticed this article was because she shared it on…Google+ 😉