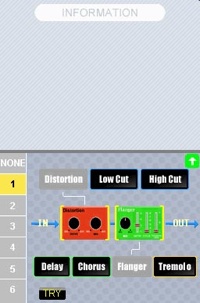 Nintendo.com News : Transform your DS into a guitar with Jam Sessions
After having been on the Japanese market for quite a while, Ubisoft is about to launch Jam Sessions to the rest of the world.
Jam Sessions is a Guitar Simulator, and unlike Guitar Hero, it's focusing on reality, as this (Hidari Mae: Logical Conclusion) great sounding sample demonstrates – it was made without real guitars!
The concept is that you strum the guitar using the touch screen, and use the navigation keys to create chords.
So I might pick up the "guitar" again, it's been more than 25 years since I tried to learn how to play the guitar – I sort of managed to get the technical details right, and it's still in "my fingers" – but it never really amounted to anything – you know music is about feelings and "letting go" – when I was 18 I was a serious uptight old fart, with no concept of feelings, I think I might fare better today, and I've actually been jamming with my oldest niece using her acoustic guitar, and it actually sounded much better after she coached me – I was amazed or maybe I'm just tone-deaf ;-).
I'm NEVER going to master a traditional game controller, but the new generation of gaming concepts that Nintendo is pioneering strikes a SERIOUS chord (pun intended ;-)) with me.