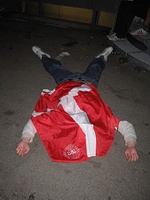 I used to love sports…

Boxing – Muhamad Ali, George Forman, Kalule, Holyfield, Super Brian and even Iron Mike – one night ruined that – after sitting up all night – it was over before it started – Iron Mike had bit Holyfield.
Biking – in the 90ies Denmark finally had top-atheletes in a highly demanding sport – I woke up in 1998 – and it has never really been the same since then.
Association football – has always been my favourite sports – I remember the passion in 1984 – when Denmark finally qualified a major tournament, 1986 when the entire world admired the team that played the game so beautifully and 1992 when Denmark for the first, and most likely last, time won a major tournament.
During the entire period Denmark enjoyed a fairy-tale like status, and the fans – labelling themselves as roligans (a pun involving the Danish word "rolig" and "hooligan", "rolig" literally means "quiet".
All this has changed now – the only nice thing about it, is that we will now finally forget Jesper Olsen, because what happened yesterday is the most stupid singe act made on a soccer pitch by a Dane, and I'm not blaming Christian Poulsen – imagine the pressure the players are under – I'm talking about the idiot that charged the field.
The referee did the right thing, congratulations to Sweden for keeping it's cool, and I'm feeling quite ashamed of being a Dane right now.
Until then, the "final" game had everything that I love in soccer, and it's been a long time since I've seen a Danish team fight like that, coming back from three goals down. We have to go back to Euro 1984 game against Belgium, that had some of the same intensity, and the similarities between yesterday's match and the 1984 match are numerous, at one time the 1984 game was turning as hostile as it did yesterday.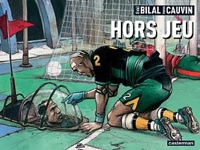 Seeing the behaviour of the hooligans after the game, and I'm including the police here, made me feel like we're not far from the dystopian visions of the future of the game by Enki Bilal in his excellent book Hors-Jeu. The cover show how the referees no longer are allowed on the field, for their own protection.
The winners yesterday were the hooligans, what used to be the greatest game on Earth – and the rest of us – lost.
Will the game survive? Most likely! – but something has to change.
#1 Ban the selling of alcohol on the stadium
#2 Perform a sobriety test before granting anyone access to the stadium
Until something changes, the game has lost a fan!