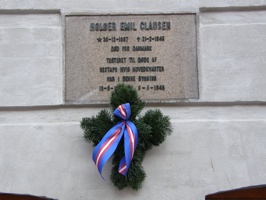 On the day that Denmark commemorates the Liberation after WWII, a major international act gave an exclusive concert, outside Copenhagen, and, for once, in a place other than Horsens. And since it was Miss KittyKat, Giselle herself, that grazed the city of Aalborg, in the North of Jutland, with her presence, you might have guessed that I bought a ticket right after it went on sale – no surprise there.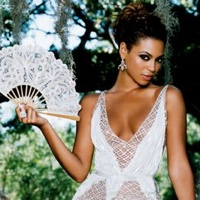 I consider Miss Giselle Knowles, better know as Beyoncé, to be a very talented woman, but my expectations, before the concert, were not that high. The reason being, that I saw her in New York in april of 2004 at the "Women First" tour, and her performance back then, was nowhere near the level of the performance by Alicia Keys, but one thing I knew for sure, was that we would be given a show of some proportions, and that I was looking forward to.
I'm of the opinion that Beyoncé owes a lot to Tina Turner, and she is, to great extend, inspired by Tina Turner in her show.
The first thing I noticed was, to my great surprise, that the band had an all-woman line up. And that was a pleasant, and welcome surprise, and my oh my what great musicians. The line-up was two drummers, a percussionist, a guitarist, a bass-player, I believe that I counted three keyboard-players and a horn section of three.
All the musicians were really accomplished, and the real highlights of the concert, were the solo performances, especially a tour-de-force by the bass-player, where the entire band joined in performing Michael Jacksons "Can't stop till I get enough".
Beyoncé also brought with her three great backing singers, and we're talking certified quality here, I noticed that they occasionally, especially at the end of the show, took over from Beyoncé.
The dancers were great, and the only men on stage were dancers – way to go – another highlight of the show, was a ballet like sequence by two of the dancers. Beyoncé is herself, a great dancer, and it is in her dancing, which is very energetic, that I find some of the strongest parallels to Tina Turner.
Beyoncé CAN sing, and a few times she gave me the chills. If I have to pick highlights from the show, I'd pick the version of "Crazy In Love", that got mixed with the great track "Crazy" by "Gnarls Barkley", the surprise act of 2006. I especially enjoyed the occasions when the arrangements were altered the most, "Babyboy" that turned into a long belly-dancing act. Since Beyoncé has had such a short solo-career, the middle of the gig was filled with a medley of Destiny's Child songs, the strongest being "Bug-a-boo", "Survivor" and "Independent Women".
Two of my favourite tracks from the new album "Suga Mama", which seems to be the theme of the tour, and especially "Green Light" I think were highlights of the show. From the first album, I really liked the version of "Me Myself and I", it's great track, and I really enjoyed this altered, slow version, mostly performed a-cappella. The version of "Ring The Alarm" was great as well, I'd think twice even considering straying form the "thin and narrow" if I ever got involved with women like that – "I stamped his passport! With a KNIFE! To his CHEST! Destination – HELL" – ouch!
All in all we were treated to an almost 2 hour show, with encores, and I think most of us left the venue with a smile on our face, hey I even think I "believe" that I made her wave when she was thanking "our" section. She thanks the audience in a rather strong way, by trying to establish eye-contact with the audience, spending something like 15-30 seconds just looking at one section of the audience, before proceeding to the next section.
I love her for pushing the idea of the confident, strong and independent woman, and in that respect she's actually a great role-model for women, and I consider Beyoncé to be some sort of goddess…She's sexy, but she can carry it, it's never vulgar. I have no idea what it is she does so differently than most of her colleges, but that alone is not a small feat.
But…And there is at least one but…Beyoncé, her undisputed talent aside, is mostly a "product", and this is becoming clearer and clearer, and I've bought into it. Yes she's gorgeous, but her music is so-so. I think that the new album is quite a lot better than the first, and it's much better than most other RnB offerings, but I think she could do so much better. For now I think I'm done buying this product, even though I enjoyed the concert very much.
And I would have liked a performance of the track "Kitty Kat" :-(. I know it's not that strong a track – but I like it – and it has some special meaning to me.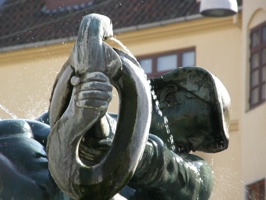 Since Aalborg is at the opposite end of the country, I decided to make the most of the day, by combining the concert, with a mini-vacation. Aalborg is a city I know very little, and my trip was unexpectedly prolonged, when I missed the last train, so I also had a glimpse of the legendary Aalborg nightlife, and I must say that it lives up to it's reputation, even though it wasn't to my taste. Aalborg is a very "young" city, and Aalborg has a very international and trendy atmosphere – comparing the way the young people in Aalborg dresses, to Copenhagen, it looks like Copenhagen is behind in trendiness and fashion awareness.
The centre of the city has been restored with great respect to the old medieval town layout, it's all very clean, and it looks like a major restoration of the harbour area is in it's early stages – and that looks promising. One thing I really like is that all the street-signs in the centre of town, has an explanation of the history and etymology of the street names. The history of Aalborg is very interesting, for instance Aalborg was the centre of one of the only real rebellions by danes, when Skipper Clement lead a rising of the farmers in 1534, during the civil-war know as Grevens Fejde (The Count's Feud).
Besides walking around the town, I also managed to cover two of the main tourist attractions: "The Art Museum – Nordjyllands Kunstmuseeum" and I got to enjoy the spectacular view from the "Aalborg Tower", but mostly I just enjoyed spending such a wonderful spring-day in Aalborg, and I want to go back.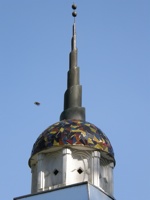 Finally: If I didn't know that things happen by chance, and that life is random, I would really ponder the fact that the Art Museum was selling jewellery made by Mikala Mortensen, and that the sales clerk told me that he owns some cuff-links from the "green" series – you know two years ago I asked her if she made jewellery for men? Obviously she does now! I know it's just a coincidence. It's also a coincidence that I found myself in front of a store called Isis, that the choreography at the Beyoncé show, at one point made it look like she had wings, making the scene, from my vantage point, look just like my favourite carving at Philae, and finally I once again captured a bird in flight, that I didn't notice, this happens at the strangest places, like the Valley of the Kings, Amagertorv and something that looked like a shrine to Tibet and humanity at the Art Museum in Aalborg. I know that it's also a coincidence that I stumbled upon a trekking offer in Nepal and Thailand at a travel-agency my good friend Jes has worked at, and that we discussed friday. I need to be careful not to over-interpret these "signs".
Other links:
soundvenue.dk: To be or not to Beyoncé – 5/6 stared review (in Danish)