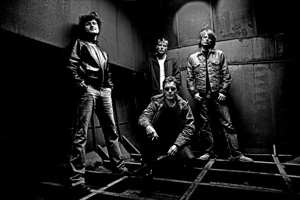 Fredagsrock – The Sandmen, København – Last.fm on the 25th of May 2007, I attended the performance by The Sandmen in Tivoli, Copenhagen.
Tivoli has, for a number of years now, had gigs featuring local and international acts every Friday during the opening season, and it's been quite a success, reviving the old gardens. But I hope that the tour guides advise their older tourists, not to choose a Friday, where a big international act visits Tivoli, for their only visit to the gardens, this Friday would have been OK though, since the crowd was modest.
Back to the gig…
Amazingly enough this was the first time I attended a "The Sandmen" gig, so I really didn't have any expectations, it's obvious that the band has suffered from the passing of guitarist Sam Mitchell, who took the band to a higher level musically.
At first the sound was quite bad, mostly the drums seemed to be produced down, but gradually it improved, and for Tivoli this was really rock'n'roll.
I find the guitarist to be the weakest link, but what he does, he does well. Allan Veggenfeldt is as great a singer as ever, and the rhythm section is very tight .
I think The Sandmen would benefit from the addition of a new lead guitarist, even though Sam Mitchell can't be replaced, and the comparisons would be inevitable, I think it would be a good idea.
The highlights of the gig was the psychedelic set finisher, that sent me into a trancelike state, that I enjoyed very much.
But what I enjoyed the most, was that I had a great, quiet – without being low-key, night out with "the boys" – are we growing up? – and an audience of (other) 40-somethings, that seemed to know the lyrics, and had a wonderful time.
Thank you to "the boys", it was great!