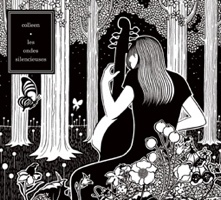 colleenplays official website
Friday I discovered the beautiful music of Cécile Schott, aka. Colleen, while visiting the wonderful Kaffe & Vinyl store in Skydebanegade.
Her new album is called "Les ondes sliencieuses", and it's all acoustic played on viola de gamba, spinet, guitar, clarinet and crystal glasses(!).
Browsing her website, I discovered that she played at Public Service 2006 in Copenhagen. Now I'm even more sad that I decided to skip Public Service last year :-(.
You can listen to the music on her myspace page.