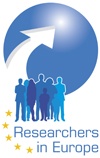 Friday I went to the Science Fair – dubbed Science After Dark – that was held at Copenhagen City Hall Square (Københavns Rådhusplads), and I enjoyed it very much. I didn't really know what to expect, but when I read that there would be live electronic music, I knew that I was going.
The first thing i noticed was that attendance, despite the location, was disappointingly low. I feel that it was because the venue looked quite uninviting, due to the fence, and the rather closed looking pavilions.
I also got the feeling that the PR for the Science Fair had been less than satisfactory.
ConDio – Controlling Audio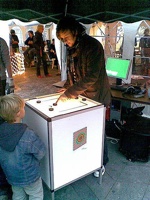 Anyway, the first thing that grasped my eye was the ConDio, Controlling Audio. The ConDio is a device with which you can control the playback of sound, simply by moving physical bricks around on a table surface. The ConDio uses pattern recognition to determine the position of the different blocks, which translates into a specific function, for instance one brick changes the track that is being played, others applies filters.
It's remarkably simple, efficient and intuitive to control a computer in this fashion, and it was a real crowd puller.
The ConDio has been developed by the medialogy branch of the University of Aalborg, and It was really great talking to the students that were responsible for the project. They were really feeding from the enthusiasm of the people that were looking at it.
I'm really envious that the students of today get to play with technology like this, to quote Haladjjan, the founder of Violet (manufacturer of the Nabaztag intelligent WiFi bunny):
"le début de l'internet a été une aimable kermesse… Maintenant les choses sérieuses commencent" – (translation: "the beginning of the Internet has been a friendly festival…Now the serious stuff begins".
What a great time in history to be alive in.
Kim Bach – The failed scientist
I also enjoyed visiting the Bio Chemistry tent, where I had a discussion about how to bring science to the public ("videnskabs formidling"). The scientist in charge asked me it I've heard about Jens Martin Knudsen – and the regular reader would know that I just posted a tribute to him – we need more like him – since he was able to bring across complicated matters in lay-mans terms – we also discussed the great Richard Dawkins.
What I really hope is that someone could take up the reins from Jens Martin Knudsen, because we need those positive role-models from the scientific community to teach us the importance of understanding our world.
I also had a chance to redeem myself. I label my self a "failed scientist". I'm really a product of the inspiration of the space program and the lunar missions, and when I was a kid, I desperately wanted to become a scientist – but "something" happened along the way – and it's too complicated to talk about here – but I basically got fed up with boring educational system.
But it does seem like I have some basic scientific intuition, and I got some high marks from "the teacher" for thinking like a scientist, when I was observing the strange creature the Daphnia.
It was also interesting talking to the students from the Nano technology line. They're looking into how to produce solar arrays that are less harsh on the environment, it turns out that you can use fruit juice from black berries as the base of a solar cell, instead of silicon – amazing.
Bend my circuits

But what I really enjoyed the most, was the tent dedicated to audio, which also included live performances from Dødskuglen, Rumpistol and Bjørn Svin (who I missed).
In the tent some interesting and simple demonstrators were set up, one was a Theremin that was controlled by a plant. You could actually play music by touching the leaves of the plant – very entertaining. Another was a tube with a number of nozzles from which gas could escape, and be lit, if you then played music, the sound-waves would modulate the flames – Daft Punk's Robot Rock looked quite good "going up in flames".
Dødskuglen plays with circuit bending, and they had gutted a lot of electronics with audio capabilities, for instance a couple of Furbys, that now looked – and sounded – like mean birds, and when you hooked them up to a keyboard, they were capable of making some wonderful noise.
Dødskuglen has their name from a dome shaped device, that is the center-piece of their show. According to them it's filled with gutted electronics from Happy Meals and the like – I'm not surprised.
We also got a live demonstration of how to circuit bend – don't try this at home – you might hit the AC power-supply and die – but if you're careful, just take a cheap electronic keyboard apart, and try to apply some wire patches live – it was amazing to hear how the standard drum-machine suddenly went into a completely different state, and sounded completely different, only to return to it's standard loop after being reset.
Kim Bach – The failed musician
After Dødskuglen, Rumpistol took the stage, and he's using his computer in combination with analogue synthesisers to produce great electronica.
Besides being a failed scientist, I also consider myself a failed musician, but with the simple technology being showcased here, that is so much more fun and intuitive to control than a traditional instrument, I might be able to express myself – I know that I have some music in my head – maybe I can finally make some music – I know that I want a copy of the guitar simulator for the Nintendo DS called Jam Sessions.
A child's mind
There's a strange unifying synergy between science and music. When doing science and music, you really need to have a child's mind, and like to play. That's something I still, I'd say increasingly, possess – so I might still become a scientist/musician. It's also noteworthy that a number of my heroes for instance RMS (Richard Stallman) and N (Peter Naur), actually play music themselves.
I went home after having had a great time, with renewed faith in our educational system, it seems to be producing playful scientists – I wished someone had told me that science was about playing, when I was a student.
I hope that Science After Dark will become a recurring event.
Show your <3 for science – make some NOIIIIISSSSSEEEEE!!!
I did, however, hear some rumours the Science After Dark has been frowned upon from the established scientific community. Come down from your ivory towers, Science is FUN and NOISY. Show your <3 for Science – make some NOIIIIISSSSSEEEEE!!!