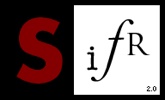 Yesterday I had the, unexpected, pleasure of meeting Mark Wubben in person, and it was great.
The reason: yesterday we had a meeting in relation to a project, and webgrl extraordinarie, Henriette Weber asked if she could bring a guest. Sure! His name is Mark Wubben, do you knew who he is? No, not really!…Well it turned out that I did, he's the man behind the incredible piece of code known as sIFR.
In case you don't know what sIFR is – chances are that you don't – it's a method to display rich typography on the web, using Flash, but in a completely transparent, and accesible way.
So as a tribute to Mark and the fantastic work he's done with SiFR, I've switched my sites theme to the sIFR experiment, I never got quite finished with last year – it's based on the standard template.
I got to look at some of the work he's done at his company, and it's SUPER cool.
Mark is also finding time – which is amazing – to work on sIFR, and I got a sneak-view of version 3.0 of sIFR, and it's going API, will be fully scalable etc.
The main reason I stopped my experimentation with sIFR, was because it didn't support Danish characters, but Mark would LOVE to hear from you, so I'll ask him for advice – really it's "just" a matter of providing the correct Flash files. Another reason I stopped using sIFR, was that I didn't have the energy to chase down nicer fonts, the defaults aren't exactly the nicest.
Wondering what Mark is up to these days? You'll better watch it!
If you're using sIFR, do give Mark a shout, he'd appreciate it, and his work deserves ALL the recognition in the world!
ps. Incidentally I just lost a good friend, due to COMPLETE stupidity on my part, I guees that I'm an a**hole, and the irony is that, he was the one, who drew my attention to sIFR. So long buddy 🙁