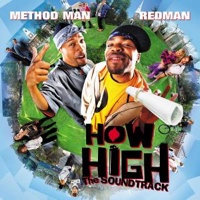 Monday the Copenhagen Hip-Hop community was served a defer than def jam (pardon my "old-skool"), when Redman and Method Man tried to bring down a sold out Store VEGA venue, and sometimes it felt like they might succeed, because the bass and the stumpin' made the floor bounce.

The wires were heated by a local act, that I missed the name of. The Danish Hip-Hop scene seems to be experimenting with mixing of genres, I must admit that I like the more European approach to Hip-Hop, which means that we have live musicians on stage, this is not a problem for seasoned acts from the States, but few European acts can pull off only having a DJ and 3-4 MCs as the only instruments. The Europeans are bringing some degree of renewal into the genre, and I welcome that, IMHO French acts like Clotaire K and Kalash are the trailblazers, on the tailcoats of MC Solaar, but we can be quite proud of our local acts.
I refuse to complain about the delay in the starting of the concert, it was worth waiting for, and they need to "prepare", which they supposedly did at "Staden" ;-), well when they finally arrived in a big black van, they went directly on stage, and almost from the get-go, the joint was jumpin'.
I was quite tired, having just arrived from Lisboa, Portugal, and at one point, before the jam kicked off, I was sitting in a corner sleeping, and one of the guards told me to try to keep my eyes open, really I don't see why, he obviously thought it was Friday night at 5AM…That being said, the guards at VEGA are very professional, and the few times I saw them go into action, they managed the situation.
Well I was so tired, that I wanted to leave early, but when I was about to leave, I looked directly at the stage, and I could feel the energy radiating from the stage and the room, as Red and Method told us CONSTANCE: you have to work as hard as us, we feed on your energy, and they did, and I stayed, I didn't regret that.
Store VEGA is the perfect size for a act like this, packed, and the lighting crew did a great job, a trick that is common in Hip-Hop is that you, quite often, shine lights on the audience, this was used to great effect, and when they did that the house was jumping, with the exception of the lame mid-section of the balcony, you s*ck! But it gave me a flashback to the time I went to the Ladies First Jam in New York's Nassau Coliseum, where the crowd was 4-5 times bigger (and 99,9% blacker ;-)), where the DJ tore it up with the floodlights on the audience – that made a lasting impact crater in my cortex.
And the energy on the stage was nothing short of amazing, I love the cool, cool moves, especially when they did "the march" routine, that was so cool!
It's been a while since I went to a Hip-Hop Jam, and the previous one was the disappointing Busta Rhymes concert in K.B. Hallen in 2006 (hey I didn't even bother with a review 🙁 hmm seems that I did). Busta is returning this year, but I'm not going to see that. Red and Method delivered what Busta, unfortunately couldn't, it might have been the venue, but his DJ was wack, and WAY too many hype-men. Red and Method keeps that to an absolute minimum, hey they even engaged in some of the most crazy crowd-surfing I've ever seen! Almost as real as it gets
This ranks in the top 3-4 of Hip-Hop Jams I've been to, competing closely with Masta Ace and Clotaire K, but I really prefer the hard accented flow of Red and Method to Masta and Clotaire, so I've decided that this is number 2 on my list, I doubt that Queen Latifah (<3) will ever loose that crown
Now I'm tempted to will go see can't go see the Wu-Tang Clan, because they've rescheduled from June 7th to July 23rd 2008, I'd like to have attended, not just to feed on the energy, but to share it, because Redman and Method Man were 100% proof, seems like they're the real deal!
Jeg er ude! Fred! Og ses vi til Wu-Tang? Det tror jeg nok vi gør…
The picture is the cover from the Soundtrack of the movie How High. It was copied from Wikipedia, it's most likely Copyright Def Jam Records, but I consider my use of it here as being fair use.