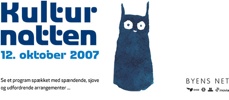 Today October 12th-2007 is the day of the cultural event of the year in Copenhagen, "The Night of Culture" or Kulturnatten, and I've just finished "shopping" for events.
You can build a custom program on the web-site, unfortunately it doesn't have a URL or a feed so that I can share it directly with you.
This year it seems like my theme will be Passion, Science and Christianity. Below is a list of events that I'll try to mange to attend – it will be tough, and I'll let the "Instincts be my shepherd" and stay for long in the places where I feel good vibes, and I'm very confident in my instincts.
It does look like my fix-points this year will be Kastellet, Botanisk Have, Humanistisk Fakultet, Glyptoteket and Marmorkirken. The previous years I had an extensive program as well, but I ended up spending hours at the Copenhagen HQ of The Danish Refugee Council, but since they're not open this year, I might manage more.
Really there's only ONE event I'm not going to miss, and that is Ars Nova singing English renaissance music in Marmorkirken – last year they were spectacular, and this year they're issuing a new CD on the Kulturnat, I'll be first in line to get a copy.
From the previous years I'll HIGHLY recommend the Exhibition at Thorvaldsen's Museum, the lights are turned off, and the statues are illuminated, it's just fantastic, for me it's been there done that this year however.
Rundetaarn is always too crowded, and the midnight concert this year is just too mainstream for my taste, but I loved it two years ago, and the storage room above the church is just wonderful.
So I wish you all a great Kulturnat, you just have to love Copenhagen for having the energy to set up such a massive event. And strange things happen on the Kulturnat, if you just let your senses guide you, and while you wait for my next blogpost, you can read about my experiences of the last two years here:
Events I hope to cover in 2007 – prioritised order – but my full intended program is 4 pages long: