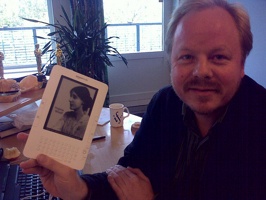 Hvad er en Amazon Kindle
Amazon Kindle er en kompakt enhed der minder om en computer, men er beregnet til at vise tekst, f.eks. digitale bøger – eBøger/eBooks, på en skærm der bruger en teknologi der hedder eInk. Denne teknologi adskiller sig fra traditionelle computerskærme, ved at den danner billedet med magnetisk blæk, og at skærmen virker med reflekteret lys, som papir, oplevelsen minder derfor meget om papir, og i øvrigt gør det at enheden bruger meget mindre strøm, da det kun er når billedet dannes på skærmen at der bruges strøm, den relativt langsomme opdateringshastighed skærmen arbejder med, gør at man ikke kan vise ting som video.
Kindle har en 6″ skærm med en opløsning på 800×600 punkter, dette giver en meget tydeligt skærm, som skal ses før man tror det. Teknikken gør dog at skærmen ikke kan vise farver, men det er noget der bliver arbejdet på det, og netop i dag afholdes der en konference i Frankrig, hvor der efter sigende er rigtig mange brugere af de nye eBogs læsere.
I denne artikel, som nok bliver en artikelserie, vil jeg fokusere mere på visionen bag, så der er ikke rigtig tale om en anmeldelse, og alle de steder der står Amazon Kindle, kunne der lige så godt stå noget andet, f.eks. "Tölva" – som en fremtidig enhed kunne hedde – "tilfældigvis" er det netop det jeg har kaldt min Kindle 😉
Hvorfor!
Så hvorfor købte jeg en Kindle? Først og fremmest så var jeg så heldig at få en i hænderne til reboot11, og jeg ønskede mig straks en, så da Amazon annoncerede at Kindle ville bliver lanceret internationalt, trak jeg straks et nummer. Den officielle lanceringsdato var den 18-oktober, den blev sendt den 19-oktober og jeg havde den den 22-oktober, hvilket inkluderede en nat på DHLs lager – den moderne internationale handels evner til levere imponerer mig altid.
Visionen
Den virkelige grund til at jeg anskaffede en Kindle, var nu også at jeg længe har haft et erklæret ønske om at læse noget mere, og her synes jeg Kindle giver os et glimt af fremtiden. Bøger og aviser er utroligt "upraktiske", jeg glemmer dem, synes de er uhandy og tunge, og dette gælder også paperbacks – jeg føler at det er en af grundende til at jeg ikke læser så meget som jeg selv ønsker. Nå ja, jeg er jo glad for dimser, og da Nikolaj Sonne fra "So Ein Ding" så min Kindle til Copenhagen Cocoa Development Camp et par dage efter jeg havde fået den, stoppede han helt op midt i sin "procedure", jeg havde en Kindle før Mr. Ding himself.
Når jeg ser en Kindle tænker jeg i øvrigt iPod anno 2001. Kindle er ikke rigtig en dims (gadget – savner dansk ord), det er en platform. Som iTunes og iPod, udnytter Kindle en eksisterende infrastruktur, nemlig Amazons, og husk at iTunes Music Store ikke var i nærheden af at være klar da iPod blev introduceret, Amazon er klar, og har allerede 360,000 titler tilgængelige, og Amazons vision er rent faktisk at samtlige (skrevne) værker der er udgivet i menneskehedens historie, skal være tilgængelige på Kindle. Jeg synes dette er en smuk vision, som det undrer mig at man skal høre fra en privat, kommerciel virksomhed fra USA.
Unboxing
Det første jeg bemærkede, da jeg pakkede min Kindle ud, var at den viste nogle instruktioner på skærmen, jeg prøvede at fjerne den plastik jeg antog var placeret på skærmen, sådan plejer det jo at være, ude af stand til at finde plastikkens kanter, gik det op for mig at Kindle viste et billede på skærmen! eInk skærme er virkelig anderledes, sammenlignet med traditionelle computerskærme – når skærmbilledet først er dannet har det ikke brug for strøm, så selv om enheden var slukket viste den et billede.
Whispernet, trådløs adgang der bare virker!
Jeg var godt klar over at Kindle var en opkoblet dims (wireless device), så jeg var meget overrasket da jeg ikke var i stand til at finde en eneste reference til opsætning, det værende sig SIM-kort, WiFi eller lignende, i den korte dokumentation der følger med – underligt – hvordan kommer den så på nettet?
Så jeg var yderst overrasket da jeg, efter at have været en tur forbi MyKindle websitet på min computer for at ændre navnet og e-mail adressen for min Kindle, og efter en kort lur, opdagede at Kindle havde opdateret sig selv, og at der nu stod "Tölva" i stedet for "Kim Bach's Kindle" på skærmen.
At se en opkoblet dims der bare virker så snart man har pakket den ud, burde ikke føles som en fantastisk ting, det er sådan teknologi burde virke, men vi er anderledes vant – knockout sejr til Kindle her!
24-November-2009 sendte Amazon i øvrigt en opdatering til version 2.3 af Kindle softwaren, og den virkede perfekt, og blev sendt automatisk – endnu et eksempel på hvordan teknologi burde virke – ingen iTunes og computer nødvendig – tak og lov!
Jeg er dybt imponeret over den aftale Amazon har fået med AT&T, der er nemlig tale om intet mindre end en gratis, global, mobil data-roaming aftale.
Passioneret fællesskab
Naturligvis skrev jeg om Kindle på twitter, og der gik ikke lang tid før jeg fik et svar. Det kom fordi jeg undrede mig over hvor jeg ville finde åbent og frit indhold – det andre kalder gratis – altså bøger der allerede findes på Internettet – f.eks. gennem Gutenberg projektet.
Disse bøger findes som regel i nogle standard formater der hedder .mobi, og dem kan Kindle læse direkte.
Svaret jeg fik på twitter, og jeg havde ikke formuleret et spørgsmål, bare luftet en undren, var at jeg skulle få fat i softwaren calibre. calibre og det er et must hvis du har en eBogs læser. Der er tale om et open source program som fungerer lidt som iTunes til eBogs læsere, det kan konvertere mellem mange formater, og sidst men ikke mindst, importere RSS feeds og overføre dem til Kindle og andre eBogs læsere.
Der er iøvrigt flere muligheder for at overføre data til Kindle, man kan enten gøre det via. Whispernet (e-mail), men det koster så $1/megabyte, så det er bedre at bruge det medfølgende USB kabel, som er standard mikro-USB.
PDF – ikke en eBogs standard
Mange er nysgerrige for at høre om Kindle understøtter PDF. Det korte svar er ja, det lange er noget mere kompliceret. De fleste PDFer er sat op til at blive udskrevet på A4 papir, og det passer ikke ret godt til Kindles 6″ skærm. Et af problemerne er at PDF er mange ting, skannede sider f.eks.
Dette skuffer sikkert mange, men problemet er altså PDF, ikke Kindle, man er simpelthen nød til at omformatere sin tekst så den understøtter variable "papir" størrelser, og der bliver nødvendigt at "teste" sine udgivelser på mange enheder.
En lidt sjov ting jeg har brugt PDF visning på Kindle til, er at jeg har lagt billetter på den, og brugte min Kindle som billet to gange under CPH:DOX – desværre havde de ikke stregkode skannere til nogle af arrangementerne, men jeg synes det ser sandsynligt ud at det ville fungere.
Amazon Kindle Store – impulskøbsalarm
Amazon Kindle Store virker som det skal, gå til forretningen, søg efter den titel du er intereseret i – her er det smart at Kindle har et tastatur, køb og titlen er klar på din startside i løbet af 30 sekunder – imponerende. Kindle bruger din Amazon konto, så hvis du har one-click slået til, så er din Kindle, effektivt, et kreditkort. Samtlige bøger kan i øvrigt hentes i en prøveudgave med adgang til udvalgt indhold, så man kan se om det er den rigtige titel, dette fungerer virkelig godt, men det er lidt for let bagefter at komme til at trykke køb, da det er standardknappen – derfor har jeg nu en kopi af "Pigen der legede med ilden" på engelsk. Det skal dog tilføjes at man straks får muligheden for at fortryde sit køb.
Der er også mulighed for at abonnere på en lang række aviser og tidsskrifter, jeg valgte straks International Herald Tribune og Asimovs Science Fiction. Det smarte, og farlige, ved aviser og tidsskrifter er at man får den 14-dage gratis.
Kindle som browser
Selv om Kindle umiddelbart er en "iPod for bøger", altså har sin egen hukommelse hvor indkøbte bøger bliver downloadet til, så er Kindle også en computer der kører en speciel version af Linux. Der er også indbygget en browser, som tilgås gennem Kindles menupunkt "Experimental features" – her finder man "Basic Web", og her får man adgang til en webbrowser, der, i den internationale version, ser ud til kun at give adgang til Wikipedia, men det er da heller ikke så tosset, gratis adgang til Wikipedia uanset hvor man er i verden.
Jeg har testet hvordan sider med f.eks. matematiske formler viser, og det ser virkelig godt ud.
Kindle er bestemt ikke verdens hurtigste browser, men det virker, og er gratis.
One Kindle Per Student (and Teacher)
En vision jeg får når jeg ser en dims som Kindle er at en dims som denne burde være tilgængelig for hvert eneste barn, eller rettere hver eneste "studerende" og lærere, og hvorfor nu det?
Kindle er enkel, virker robust, og kan allerede i dag, indeholde en kopi af alle de skolebøger man har brugt i hele sit aktive studieliv, det er lige fra Folkeskole til Universitetet.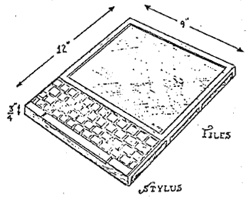 Jeg synes at Kindle ser meget bekendt ud, og den minder mig om Alan Kays vision – Dynabook – Wikipedia, the free encyclopedia. "A Personal Computer For Children Of All Ages."
Hvis samtlige børn ("studerende") havde en platform som Kindle, ville det også skabe et nyt marked for skolebøger, hvilket burde være med til at forbedre kvaliteten – hvis man ellers tror på markedsøkonomi.
I dag bliver innovationen indenfor uddannelse bremset af ophavsretsloven, det er, f.eks., meget svært at hjælpe børn med ting som matematikopgaver over Internettet, fordi det ikke er muligt at dele skolebøgerne online, eller som downloads til en eBogs læser.
Lærer er i øvrigt i den brede definition, fordi vi alle vil blive, potientielle, lærere hvis denne teknologi blev gjort tilgængeligt for alle.
Rent faktisk er vi også alle studerende, nutidens samfund kræver af os at vi fortsætter med at uddanne os hele livet, er det ikke vidunderligt, og det er også sundt! Få din hjerne til at "pumpe jern".
Hvor er verdens førende IT land?
HVORFOR kan jeg ikke få lov til at betale for min avis (og heller ikke BØLGEN ;-)) – der er nemlig ikke en eneste dansk avis der synes det var umagen værd at levere aviser gennem Amazon? Tilgengæld kan jeg, via. RSS og den uundværlige calibre software, hente Information, og det koster helt gratis.
At ingen danske forlag har fundet det nødvendigt at kunne distribuere via. Amazon var mere forventet.
Rygtet om litteraturens død er stærkt overdrevet
Kindle kombinerer vision og forretning, Amazon har leveret en dims der er så let at bruge som jeg mener det er muligt med nutidens teknologi, og der er en klar forretningsmodel. Amazon har en vinder her.
Hvordan går det så med at læse noget mere. Jeg er f.eks. nu halvvejs gennem min første bog, "The Raw Shark Texts", som blev indkøbt til mig af min veninde @anetq fra den fine Undr! blog – tusinde tak for "gaven".
Igen virkede twitter på mystisk vis. Da jeg roste bogen på twitter, og skrev forfatterens navn, gik der ikke mange minutter før jeg fik et "thanks" fra @steveha11 – forfatteren af the "Raw Shark Texts" – en bog jeg nyder meget. Det er fantastisk at forfatterne nu kun er et tweet væk. Så vidt jeg kan forstå, så arbejder Steve Hall på en filmatisering af "The Raw Shark Texts" – noget der ikke bliver helt let.
Jeg tror virkelig at Amazons vision kan få os til at læse mere, hvilket også vil få os til at skrive mere, så rygtet om litteraturens død (Information 2059: Amatørerne har gjort en ende på litteraturhistorien) er stærkt overdrevet. Hvordan det kommer til at gå med "bogen" – jeg tror personligt at bogen, som vi kender den, forsvinder, men at vores enheder vil blive så gode at vi slet ikke kan se forskel.
Her er et tip til hvordan Danmark kan blive nummer 1 på rigtig mange af de lister Statsminister Lars Løkke Rasmussen snakker om – sats på åben og fri digital distribution af alle skolebøger, og vi kan få en renaisance for læsningen og viden.
Bogen er død, længe leve bogen!
Tidligere dækning:

Eksterne henvisninger:

Her kan du hente gratis eBøger
Litteraturliste: