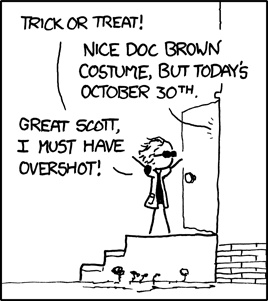 WOW! I'm honored! October 30th is my Birthday, and now it's also the title of an XKCD Comic! AND Back to the Future is on my shortlist of favourite flicks!
ps. A Doc Brown costume? Nice idea!
pps. Thank you to #mixpack and the #lastfriday possé for making my 47th Birthday one of the best Birthdays EVAH. Special mention to @HelloCopenhagen for the inspiration in selecting the venue!